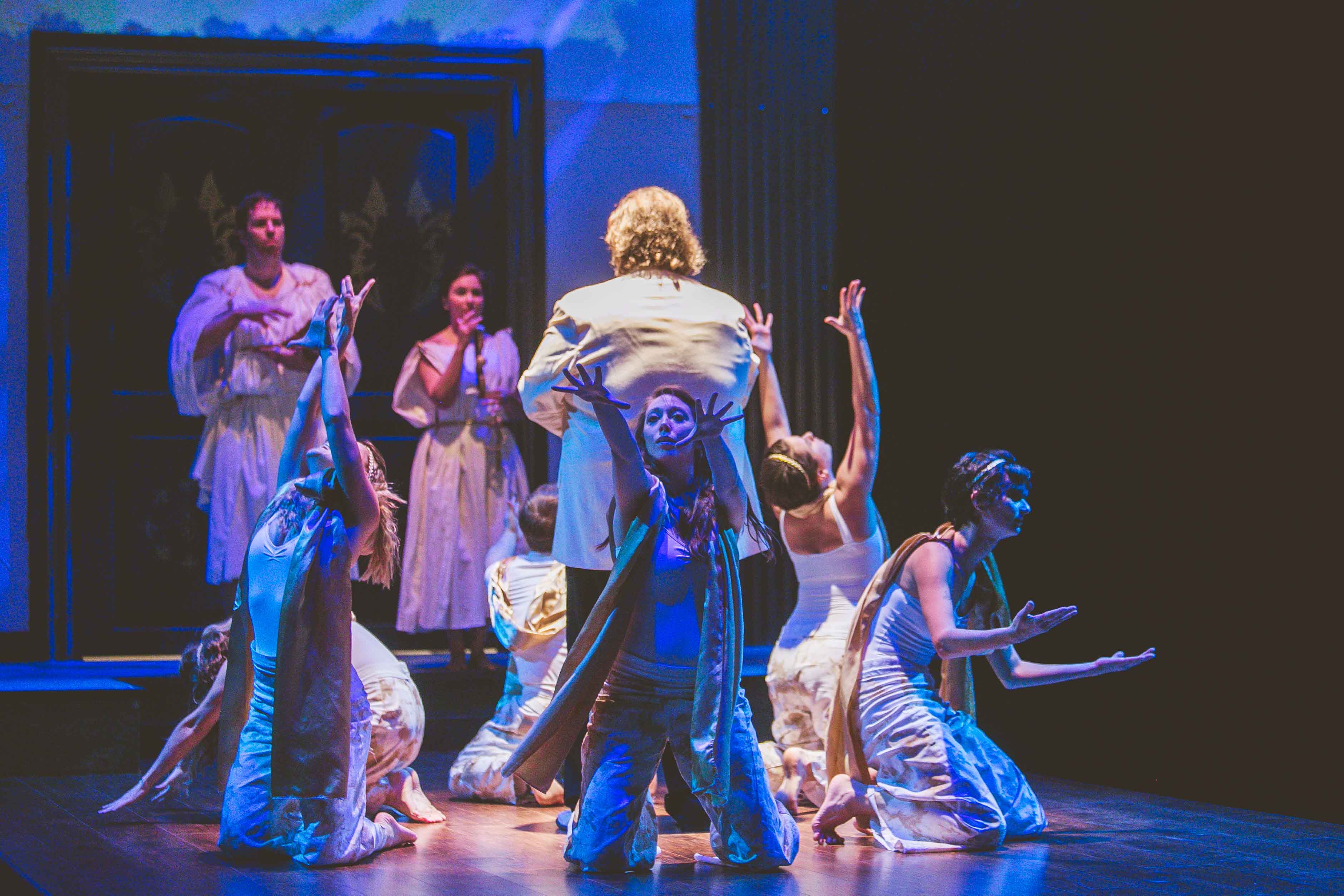 Written and Directed by Liz Fisher
As flies to wanton boys are we to th' gods, They kill us for their sport. - William Shakespeare
Winner: Central Texas Excellence In Theatre Award for Best Original Play
Winner: B. Iden Payne Award for Outstanding Technical Achievement
Winner: B. Iden Payne Award for Outstanding Stage Management
Nomination: B. Iden Payne Award for Featured Actress (Robin Grace Thompson)
Nomination: Austin Critics' Table Award for Acting in a Leading Role (Matt Radford)
Deus Ex Machina is a live, choose-your-own-adventure performance that gives total control of the play's storyline to the audience.
Written and directed by Liz Fisher, Deus Ex Machina rips characters from Greek mythology and throws them into a gladiator ring. Through the power of Zeus, the audience is transformed into gods and battle it out like clashing titans to determine the fates of the infamous characters of the House of Atreus: Agamemnon, Clytemnestra, Electra, and Orestes. But no matter what the audience chooses, there are consequences, and not all of these characters will make it out alive.
Deus reformats the epic Greek tragedies of The Oresteia, giving the audience unprecedented theatrical power to control the very trajectory of the narrative through real-time digital interaction. This malleable roller-coaster of a narrative ultimately tracks to 1 of 12 potential story lines, plus even more opportunities to exercise dramatic omnipotence for 12,288 possible experiences. (Seriously. We've done the math.) Want more control? Dig a bit deeper and find a few hidden easter eggs that allow audiences to invoke the power of Mount Olympus.
Deus Ex Machina runs January 3-18, 2015 at the Long Center's Rollins Theatre. Performances are Wednesday through Saturday at 8pm. Sunday performances take place at 5pm. There will be a special Industry Night on Monday, January 12. Tickets available at the Long Center Box Office. Tickets are on a Sliding scale from $28 – $50. Student and Military (with ID) discounts available. Discounted student rush tickets are available at the door up to one hour before curtain.
This world premiere is one of a kind. We've yet to find anyone doing something quite like this. Let's rewrite history.
Part real world video game, part Tarantino revenge flick, you've never seen Greek drama like this before. When was the last time you played god?
Cast
Click on a team member's name to learn more about them.
Production Team
Click on a team member's name to learn more about them.
Deus Ex Machina sponsors